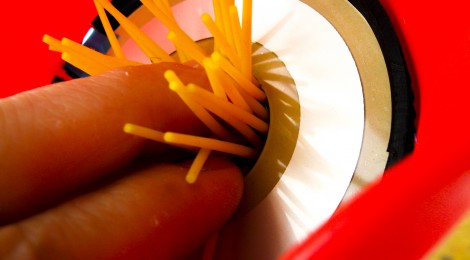 F[r]iction
"There is no body without f(r)iction"
The title of this project was taken of the deed of
Felipe Rivas, member of the collective Sexual Dissidence CUDS.
F[R]ICTION is a DIY synthesizer device that generates sound by body friction. Departing from wired body with prosthetic attachments, Quimera considers prosthetic reversal where the body prosthesis branch out to make contact with its immediate environment. Body sensors via contact through touch, light, bending orvibration are re-evaluated for their maximum impact.
Using recycled materials to create a spatial notion based architecture, comprised of various organic and machinistic technologies, F[R]ICTION explores forms of body modification in which the expanding space meets the body in friction. Admit the electronic debris, the flesh merged with the plastic, the wire, the circuit boards, the flesh takes up the space and becomes space. The generative liquid sound flowing through the space composes chaotic imagery as bona fide noise disrupting any narrative linearity that the viewers may wish to construct. Given an open space to move around, we expect the audience in the performance to be drawn into the F[R]ICTION, sharp edged and non reconcilable.
about the project´s work:
Project Description
Work in the residence 
Demo
Squematic
Partlist
Exported from Synth FRICTION.sch at 18/01/2015 22:56:27
Assembly variant:Part Value Device Package Library SheetC1 2,2 uf CPOL-USE2,5-6E E2,5-6E rcl 1
C2 2,2 uf CPOL-USE2,5-6E E2,5-6E rcl 1
C3 220nF C-EU050-025X075 C050-025X075 rcl 1
C4 220nF C-EU050-025X075 C050-025X075 rcl 1
C5 10 uf CPOL-USE2,5-6E E2,5-6E rcl 1
D1 1N4148DO35-7 1N4148DO35-7 DO35-7 diode 1
D2 1N4148DO35-7 1N4148DO35-7 DO35-7 diode 1
D3 1N4148DO35-7 1N4148DO35-7 DO35-7 diode 1
D4 1N4148DO35-7 1N4148DO35-7 DO35-7 diode 1
G1 AB9V AB9V AB9V battery 1
IC2 40106N 40106N DIL14 40xx 1
JACK-OUT KLDVX-0202-A KLDVX-0202-A KLDVX-0202-A con-kycon 1
JP1 flex sensor PINHD-1X2 1X02 pinhead 1
JP2 copper cable PINHD-1X2 1X02 pinhead 1
MAGNETOPOT SV01A SV01A SV01A murata-sensor 1
R1 1,5k R-US_0204/5 0204/5 rcl 1
R2 1,5k R-US_0204/5 0204/5 rcl 1
R3 1,5k R-US_0204/5 0204/5 rcl 1
R4 1,5k R-US_0204/5 0204/5 rcl 1
R5 33k R-US_0204/5 0204/5 rcl 1
R6 33k R-US_0204/5 0204/5 rcl 1
R7 33k R-US_0204/5 0204/5 rcl 1
R8 33k R-US_0204/5 0204/5 rcl 1
R9 100K 3RP/1610N 3RP/1610N pot 1
R10 100K 3RP/1610N 3RP/1610N pot 1
R11 100K 3RP/1610N 3RP/1610N pot 1
R12 100K 3RP/1610N 3RP/1610N pot 1
S1 255SB 255SB switch 1
S2 255SB 255SB switch 1
S3 255SB 255SB switch 1
S4 255SB 255SB switch 1
S5 255SB 255SB switch 1
TOUCHSENSOR1 SV01A SV01A SV01A murata-sensor 1
TOUCHSENSOR2 SV01A SV01A SV01A murata-sensor 1
Project with residency: Summer 2014 at Eleonore, Linz, Austria
The Soft, The Hard and The wet curated by Shu Lea Cheang
and presented in Stadtwerkstatt in the context of ARS Electronica 2014